2019.10.03 18:33:37 (*.39.217.77)
80984
*디자인프레스의 사용 허락 하에 기재 함.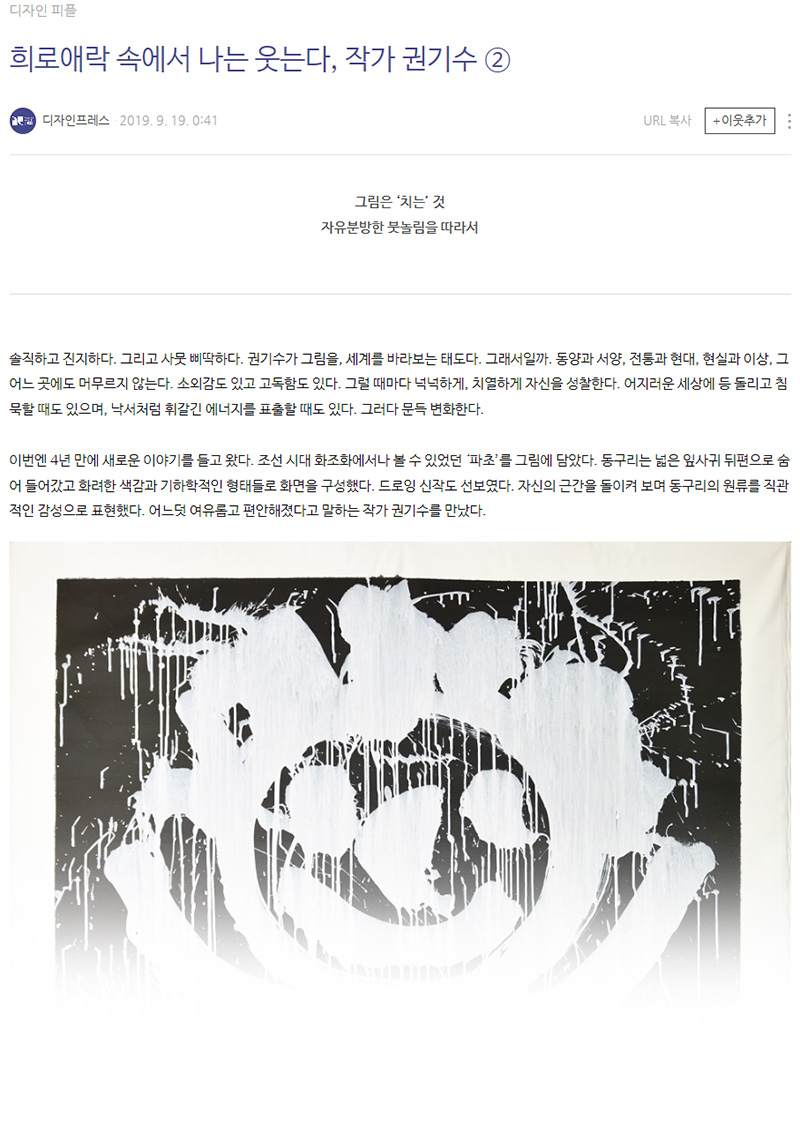 ---------------------------중략---------------------------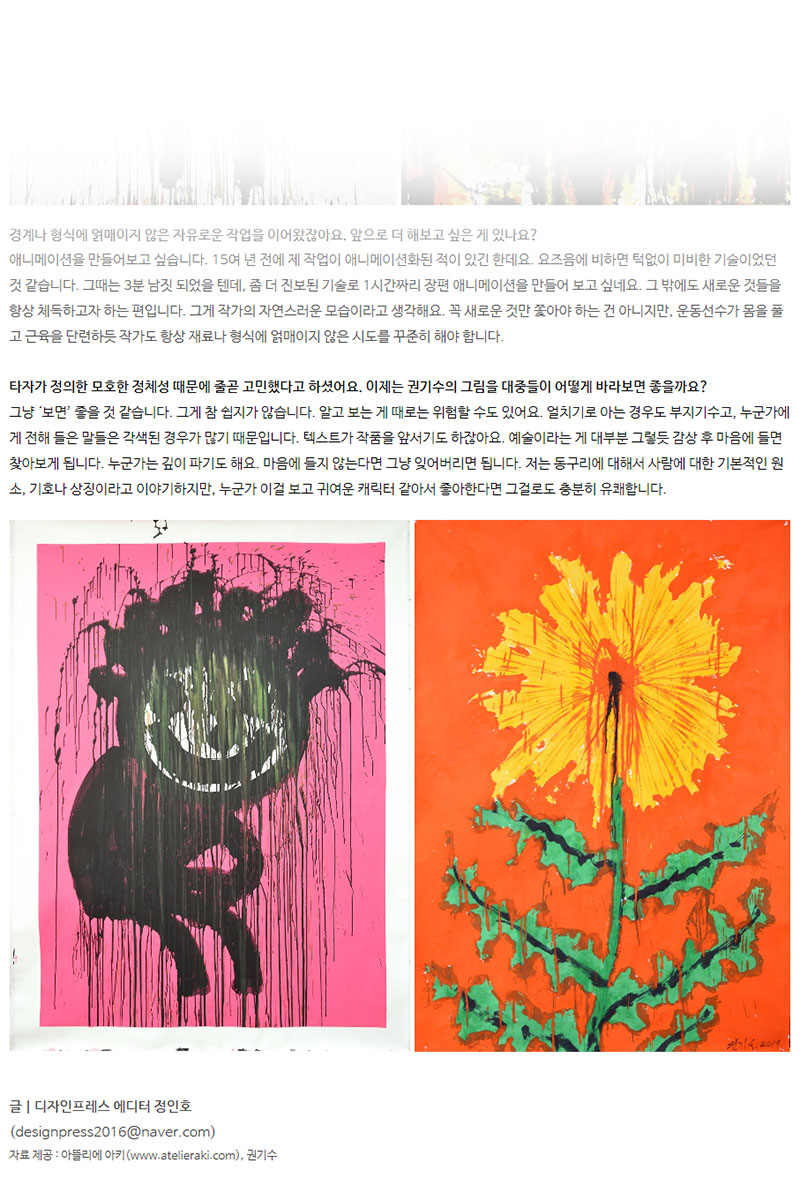 I Laugh in the Joys and Sorrows of Life: Artist Kwon Ki Soo ②
Designpress
---------------------------------------------------------------------------------------------------------------------------------
Painting is to 'strike'.
Following the free-spirited brush strokes
---------------------------------------------------------------------------------------------------------------------------------
Honest and serious. And quite twisted too. This is Kwon Ki Soo's attitude toward painting and the world. Perhaps this is the reason why his work does not linger anywhere in the East and the West, in tradition and modernity, and in the real and the ideal. There is a sense of alienation and loneliness. Each time he is faced with such a situation, he gives himself an intense and ample time for self-reflection. Sometimes he turns his back on the rough and haphazard world and maintains silence, and sometimes he expresses his scribbled graffiti-like energy. Then suddenly a change comes.
Kwon Ki Soo has returned with a new story after 4 years. He has depicted the 'plantain' which is found in the paintings of flowers and birds in the Joseon Dynasty. Dongguri—a round icon of a human figure—is hidden behind the broad leaves, and the canvas is composed of brilliant colors and geometric shapes. He has also showcased new drawings. Reflecting upon the foundation of his art, he has expressed the original images of Dongguri with an intuitive sensibility. I met with artist Kwon Ki Soo. He has related that he has now become more relaxed and laid-back.
How did the Dongguri come to be?
In the early days of my career I painted people's backs. It was a depressing period. I thought a person's weary appearance from behind would convey the most honest feelings that no one could hide. I was also harboring a lot of agony myself.
The scale of the work was so big that it seemed like I was spending all my time on drawing, even though I wanted to cover various stories of people passing by, as if taking snapshots. Then I met a friendly curator and had an opportunity to have an exhibition. The works were too coarse and rough to exhibit at a gallery, which made me display them at the attached restaurant. But my paintings were so serious that they were no good for the people that ate there. So, I took away all the unnecessary parts. At the end, just the Dongguri was left. The image of Dongguri was born after the process of taking away.
a digital image for 'The Show 1998'-Solo exhibition 1998
Run, 2002, 3min. 27sec., Animation, loop
The Dongguri images in your works are mostly smiling. What is the emotion behind that smile?
Dongguri's expression is like the way we live in a situation where we have no choice but to laugh. It's like the mask that everyone needs when living inside the boundaries of society. Jiang Ziya and Kim Jung-hee in the old story that I borrowed as motifs for my works were not really happy either. Dongguri is just like the lyrics of a popular song, "my laughs are not really laughing."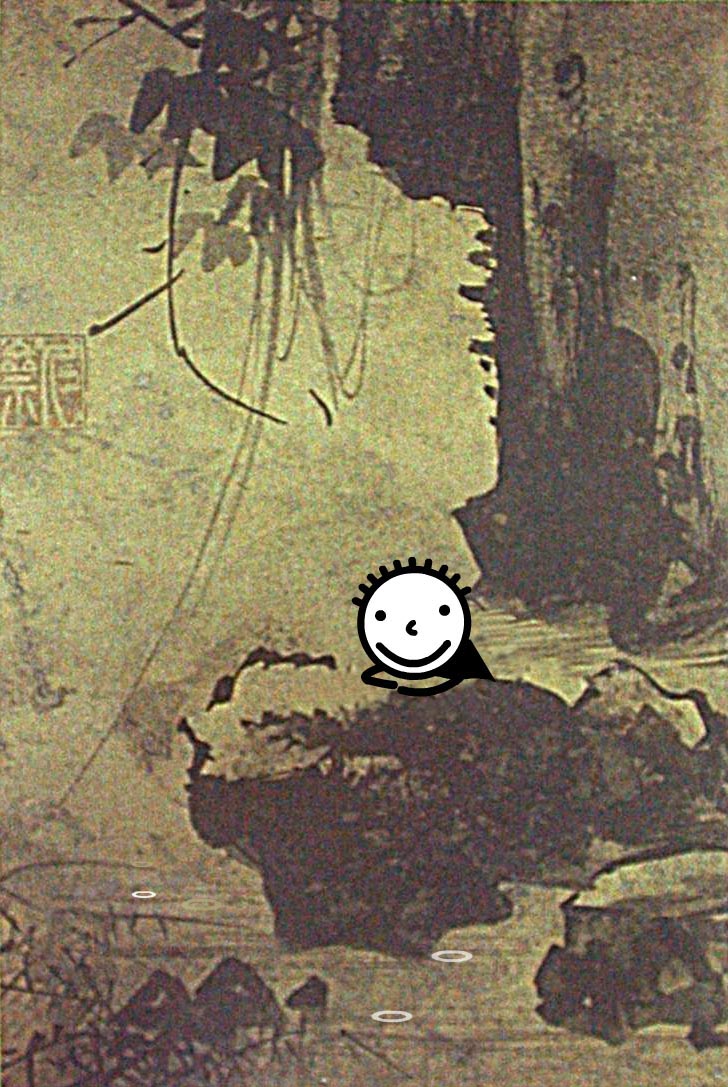 Standing On the Stars, 3min. 41sec, Animation, 2003
Recently, when you talked about how you express yourself, you have mentioned 'striking a picture', rather than 'brushing' or 'drawing with brush'. What do you mean by 'striking a painting'?
When I said, 'strike a picture', it's about drawing. It's different from painting. In fact, the English term 'drawing' was not easy to translate into Korean at all. 'To draw' seems to contain no emotions, and 'to paint' seems to contain too much emotion. But when I think about it, I remember we said 'striking' the Four Nobel Plants. I think it's right to say that I 'strike' my drawing too. This expression also contains a sense of vitality and rhythm that cannot be found in 'to draw' and 'to paint'.
Is the drawing roughly expressed with a quick touch also intended to bring out the vivid vitality?
I think it's because the root of my drawing is in the Four Noble Plants. As the scholars in the past collected themselves and struck the Four Noble Plants, I also wanted to draw in a way that didn't cling to any shape in the process of unraveling myself. This is because I want to find the same sensation as that of dashing off with one stroke of a brush.
Unlike drawing, when you're painting, you're looking for tools not only in paints and brushes, but also in the digital domain. What is the process of your painting?
First, I make a rough sketch with a tablet PC. Then, I create data in the same size as the actual canvas. Next, I make a line output (printing outlines with a large printer). Up to this point is the sketch using digital means. After printing, the coloring process is once again non-digital. I prepare the canvas, transfer the sketch over and copy it, and then paint the colors I prepared in advance.
Two Heads or Look Right And Left, 2002, 4min., Animation
You've been working freely, unrestricted by any boundaries or forms. Is there any area you want to explore further in the future?
I want to make an animation. 15 years ago, my work was animated. Compared to these days, it was made using ridiculously poor technology. Back then, it was about 3 minutes long. This time, I'd like to create an hour-long feature animation with more advanced technology. Besides, I tend to try to learn new things always. I think that's the natural attitude of an artist. Of course, you don't have to always run after something new, but just as an athlete relaxes and strengthens their muscles, an artist should continue to make attempts unrestrained by material or form.
You said you've been troubled all the time because of the vague identity defined by others. Now, how would you like the public to view your painting?
Just 'seeing' would be enough. That's not easy at all. Sometimes, seeing with knowledge can be dangerous. This is because countless cases are based on half-baked knowledge, and hearsay mostly consists of embellished epigrams. As you know, sometimes even the text outdoes the work of art. As with most arts, if people see a work of art and like it, they will come back again. Some people dig deeply. If you don't like it, just forget it. About Dongguri, I say that this is the basic element, or a sign or symbol of people. But if someone sees it and likes it because it's a cute character, I'm happy enough.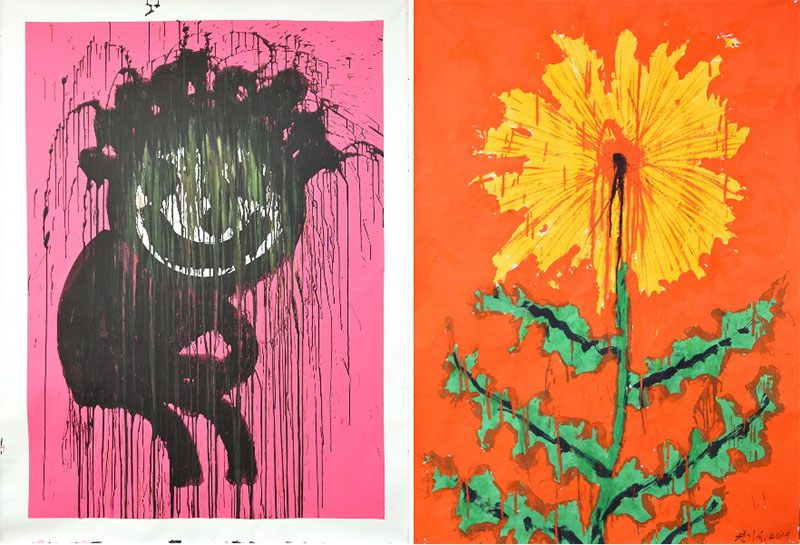 글 | 디자인프레스 에디터 정인호
written by designpress2016@naver.com
한글 버전은 디자인프레스의 원문을 참고 하세요.(클릭)